The
Marketing
Leadership
Masterclass
By Thomas Barta & Syl Saller
September 15, 2021
€ 1,095. Three or more? Contact us for a team rate
Real-time peer group learning, at your own pace • bitesize • 3 months
Built on the world's largest studies on marketers' success, the Marketing Leadership Masterclass gives you the complete toolkit to build your influence and boost your career.
The Marketing Leadership Masterclass.
In a nutshell.
A complete leadership class for marketers
In just 12 bitesize modules, over 3 months, learn how to lead upwards, sideways, teams, and yourself—as taught by top global business schools and built on our world's largest studies on marketers' success. Led by world-leading experts Thomas Barta & Syl Saller.
Learn and network together with peers
Join a realtime peer network with participants from the Americas, Europe, Africa, Asia/Pacific. Come together on our unique and fun discussion platform. Solve problems, help others. In this class, you are never alone!
Completely flexible, but paced
You are busy. We know. We've built this class from the ground up for busy people. All lectures are bitesize, on demand. Learn at your own pace. But no worries: we'll pace you. In this class, you can't fall behind. PS: you'll get a Certificate in Marketing leadership—but there's no exam.
Joining the class.
What's it going to be like?
12 modules, 3 months: Each week we'll message you with 2-3 bitesize lectures, including videos and some readings.
100% online, at your own pace: Take lectures as they come out, binge-watch—you choose.
Live peer discussion: Engage at any time. The debate is always on, 24/7. Ask questions, solve problems together.
Workbook: Craft your own personal plan along the way.
Masterclass mentors: Reach out if you need help.
Live sessions: Problem solve directly with Thomas, Syl, and top ranking guest mentors (we'll cater for all time zones).
Optional "challenges": You'll get to solve four fun challenges.
Certificate in Marketing Leadership: Want to go for merit or even distinction?
In just 12 modules, become the influential marketer you always wanted to be.
How this class works.

All you need to know in short clips.
Success stories.
See how the class has made a real difference for our alumni.
Learning redefined.
You aren't just watching—you'll join the debate.
We've built one of the world's most interactive learning platforms to help you learn from your peers.
Step 1: watch. We'll release fresh lectures every couple of days, with bitesize videos and readings.
Step 2: discuss. For each lecture, there's a lively discussion. Share ideas, ask questions, support each other—24/7.
Step 3: apply. With the help of questions and your workbook, build your plan and make change happen—right next day.
You'll learn a lot from the course. But the real magic happens when you team up and solve problems together with your peers.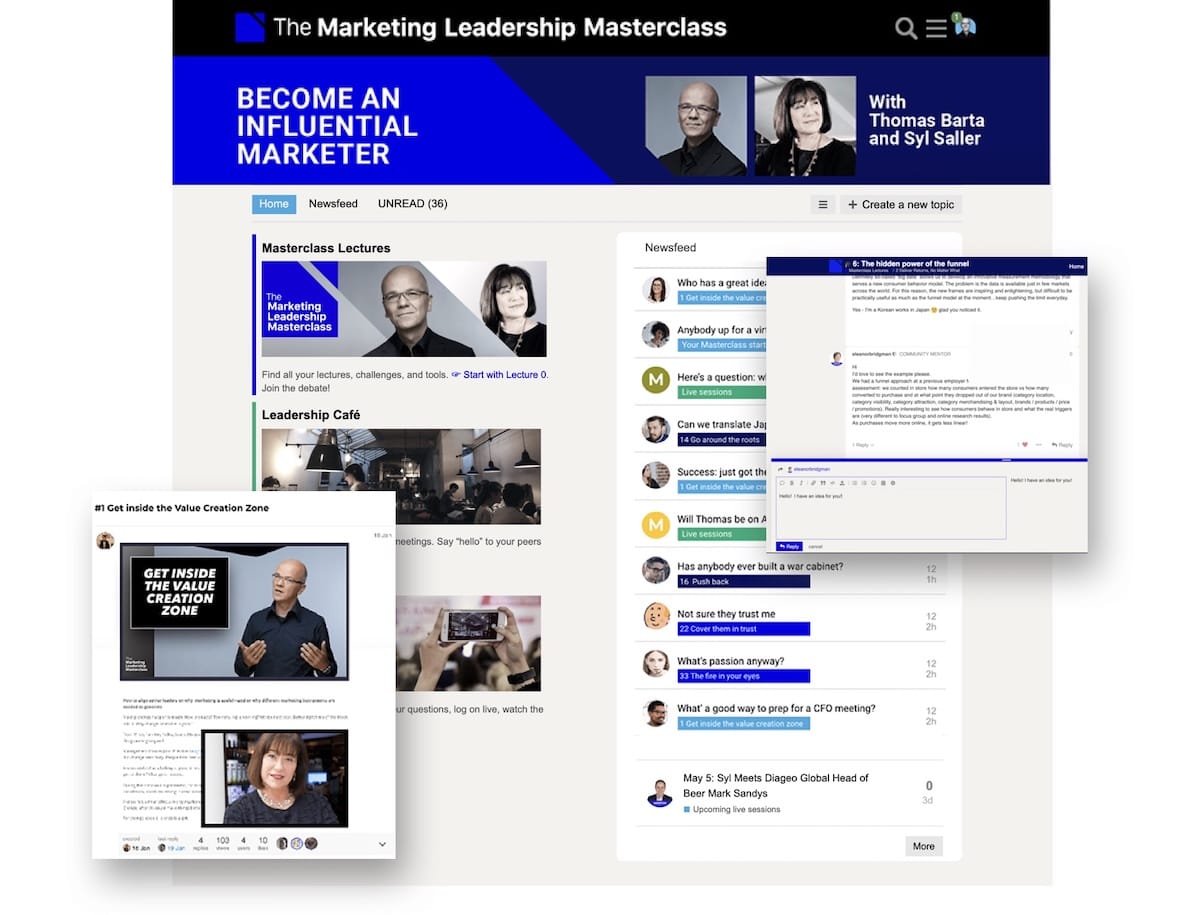 Guest mentors.
Learn from top-ranking leaders during our fireside chats.
Meghan Farren
Asda, Chief Customer Officer
Mark Phibbs
Cisco, Vice President Marketing, APAC
Ljubica Radoicic
Autodesk, Director, Revenue Marketing APAC
Natalie Truong
Mercer, Chief Marketing Officer & Partner
Sarah Warby
Nando's, Chief Customer Officer
Rory Sutherland
Ogilvy, Vice Chairman and Creative Director, UK
Wendy Walker
Salesforce, Senior Director Marketing Asia Pacific
Mark Sandys
Diageo, Global Head of Beer, Bailyes & Smirnoff
Jackie Lee-Joe
Netflix, Former Global CMO
Mark Evans
Direct Line, Group Managing Director, Marketing & Digital
Master the art of marketing leadership
Leading marketing isn't the same as doing marketing. You love marketing. You have a passion for customers and clients. But you realize, for success, knowing marketing isn't enough.
To achieve real business impact – and a rocking career – you need to get the support of bosses, clients, colleagues—the many people who don't report to you. We call this leading upwards and sideways (see our McKinsey Quarterly article).
For this Masterclass, we've designed a world-class 12-module curriculum. Learn the key concepts of organizational psychology, change, and motivation. Get access to the insights from the world's largest studies on marketers' success.
Each module has bitesize lectures with videos, questions for your Power Journal, further reading, and a lively peer discussion. Perfect for busy people.
Enjoy a world class curriculum
Find your Value
Creation Zone
Serve both customer needs and company needs, to claim your seat at the top table
Building Value Creation Zones
Stakeholder needs analysis
Big picture thinking
Convincing stakeholders
Asking to lead
More
4 bitesize lectures
Peer discussion
Readings
Journal questions
Live Q&A session
Study time (fast track): 4h
Deliver returns,
no matter what
For your marketing idea, for your change project: what's the return? Stakeholders need to know
Setting expectations
Building your investor brand
Using success metrics
Explaining indirect effects
Budget strategies
More
3 bitesize lectures
Peer discussion
Readings
Journal questions
Live Q&A session
Study time (fast track): 3h
As a leader of change, build your reputation as someone everybody wants to have on their team
Reading personalities
Speaking up in meetings
Mastering the right language
Avoiding jargon
Working with strong partners
More
3 bitesized lectures
1 challenge (short exercise)
Peer discussion
Readings
Journal questions
Live Q&A session
Study time (fast track): 4h
As a marketing leader, you must find ways to mobilize all the people who don't report you
Surviving in a matrix
Colleagues as customers
Building idiosyncrasy credits
Walking the halls
Usual (and unusual) suspects
More
3 bitesize lectures
Peer discussion
Readings
Journal questions
Live Q&A session
Study time (fast track): 3h
When everyone joins in, projects become movements. For your work, how could you start one?
Opening windows for change
Crafting change stories
When to let others lead
Bitesizing Issues
Starting of Movements
More
4 bitesize lectures
Peer discussion
Readings
Journal questions
Live Q&A session
Study time (fast track): 4h
Storytelling is nice. Storydoing is better. Get involved and create real results
Customer Feed Forward
"Get me on of those"
Ways of pushing back
Getting to the font line
Going first
More
3 bitesized lectures
1 challenge (short exercise)
Peer discussion
Readings
Journal questions
Live Q&A session
Study time (fast track): 4h
To make change happen, your most powerful team has distinctive skills and sings the same tune
Finding distinctive skills
Selecting personality  traits
Aligning team goals
Writing a team mission
Agreeing on how to behave
More
2 bitesize lectures
Peer discussion
Readings
Journal questions
Live Q&A session
Study time (fast track): 2.5h
Help your team ask for forgiveness—not just for permission. Build confidence and trust
Displaying professionalism
Building intimacy
Taming your ego
The "forgiveness rule"
Being the Chief Mood Officer
More
2 bitesize lectures
Peer discussion
Readings
Journal questions
Live Q&A session
Study time (fast track): 2.5h
To attract the best people, create a supportive environment that values results, not just effort
Using peer accountability
Giving teams an outside focus
Agree on what not to do
Evaluating for results
Letting people go
More
2 bitesized lectures
1 challenge (short exercise)
Peer discussion
Readings
Journal questions
Live Q&A session
Study time (fast track): 3.5h
No matter how high you rise, you'll never have all the power. Your best bet is to inspire people
The power of inspiration
How you inspire today
What's under the waterline?
Why you do what you do
Inspiring as a leadership tool
More
2 bitesized lectures
Peer discussion
Readings
Journal questions
Live Q&A session
Study time (fast track): 3h
Your influence grows once you find your own change leader path—and spread your own truths
Unfollowing people
Finding your own truths
Effective authenticity
Challenging job descriptions
What your real job is
More
2 bitesize lectures
Peer discussion
Readings
Journal questions
Live Q&A session
Study time (fast track): 2h
The most effective marketing leaders have a vision for success and know why to be brave
The importance of bravery
Why you must be brave
The power of a vision
Charting your own path
When it's best to quit
More
3 bitesized lectures
1 challenge (short exercise)
Peer discussion
Readings
Journal questions
Live Q&A session
Award: Certificate of Growth
Joining the Alumni network
Study time (fast track): 4h
From the word's largest ever study on marketer's success
Thomas Barta and London Business School professor Patrick Barwise wanted to know: what makes an effective and successful marketing leader?
To find out, they conducted the largest ever global study of marketing leadership, involving over 68,000 executive assessments. The research revealed 12 essential traits that can make or break marketers' business impact and career success. You find all details and more in the #1 leadership book for marketers: The 12 Powers of a Marketing Leader
The Marketing Leadership Masterclass takes everything we have learned in this – and further studies – to a whole new level—including latest insights from top business schools and C-suite leaders from around the globe.
"Everything you need to know to be a superior marketing leader"
—Marshall Goldsmith
Thinkers 50 #1 Leadership Thinker in the World
"The essential leadership playbook for the CMO of the future."
—JIM STENGEL
Former Global Marketing Officer, Procter & Gamble
"A must-read for every present and future CMO who cares about making a difference."
—SETH GODIN
Author of All Marketers Are Liars
"A masterful dissection of what it really takes to lead marketing."
"A persuasive and well-researched perspective on the opportunities open to marketers to lead for change."
—PAUL POLMAN
CEO, Unilever
"The Essential read for any marketing professional looking to take the next step in their career."
—DOMINIC BARTON
Global Managing Director, McKinsey & Company
"This might just become the bible for marketing leaders."
—SHERILYN SHACKELL
Founder and CEO, The Marketing Academy
Research-based, but brought to life by human beings."
—SIR MARTIN SORRELL
CEO, WPP
Thomas is a former partner of McKinsey and an organizational psychologist. Founder of the Marketing Leadership Masterclass, he conducts groundbreaking research at the intersection of marketing and leadership – including the world's largest study – with over 68,000 assessments – on what makes for an impactful marketing officer.
Thomas has created the Marketing Leadership Masterclass in 2016. The aim? Help build the next generation of influential change leaders.
His and Patrick Barwise's book, The 12 Powers of a Marketing Leader, has set the new standard for marketing leadership. As a dean of the firm's highest-rated internal program, Thomas trained over a thousand McKinsey leaders on driving change without authority. To date, thousands of executives have attended his marketing leadership classes.
Thomas is Marketing Academy leadership dean and an Honorary Fellow of the Marketing Society.
His work appears in Forbes, Marketing Week, and on his TryThis.Blog.
Syl Saller CBE, is among marketing's preeminent global leaders of our time.
In her role as Chief Marketing and Innovation officer for Diageo, owner of iconic brands like Johnnie Walker, Guinness, and Smirnoff, Syl led all global marketing, media, design, innovation, R&D, and reserve—Diageo's luxury division. Her experience ranges from luxury goods to FMCG and retail/franchisee models, and she has a deep understanding of both developed and emerging markets.
An experienced Board member, Syl is President of the Marketing Society, sits on the board of the Marketing Academy, and is an Executive Coach for their Fellowship program. She has been a Non-Executive Director of Domino's Pizza Group plc, on the executive committee of the World Federation of Advertisers, a Trustee for the Women's Prize for Fiction, and Chairman of Distill Venture's Investment Committee.
Syl has been consistently recognized for her service to industry. She was awarded Commander of the Order of the British Empire (CBE) in the Queens 2020 Honour list in recognition of her services to business and equality in the workplace. She has been Marketer of the Year and one of WFA's Top 5 Global CMO's, Debrett's 500 Most Influential People in Britain, Campaign's Top 5 Marketers, Ad Age's Women to Watch, and Forbes 50 Most Influential CMOs.
Answers to your questions
Who is this Masterclass for?
We welcome all skill levels. The Marketing Leadership Masterclass is for everyone who wants more impact and career success. If you want to make change happen, this class is for you.
Experienced leaders will learn how to shape the top agenda, influence throughout the firm, and build powerful teams that ask for forgiveness, not for permission.
Emerging leaders will discover why projects sometimes get stuck and what the world's best influencers do to win.
Agency executives will gain the skills to influence the people who matter and become their clients' most trusted advisor by helping them achieve real impact.
Career movers will learn how to plan their next gig, get ready to ask the right questions, set the right priorities, and hit the ground running.
What exactly is included in the Marketing Leadership Masterclass?
12 modules, seeded over 12 weeks, covering all aspects of marketing leadership

Networking with peers on our 24/7 discussion board, where you can ask questions and help others

50+ videos, exercises to trigger your thinking, links to articles and speeches …

… bitesize insights, perfect for busy people

100 days overall access to the platform

Weekly email updates, SMS reminders (optional)

Interactive live sessions with Thomas, Syl and a panel of guest speakers

Becoming part of the Marketing Leadership Masterclass Alumni network
Read the full brochure.
Can I take the class in my time zone?
You absolutely can. First off, we have participants from around the globe. All modules are available on demand, 24/7. For the live sessions, we'll try and match all time zones. In case you can't join at that particular time, you can always watch the recording. No matter if you live in the Americas, APAC, Africa, Europe—the class is there for you at your own time.
Are there exams? Will I receive a certification?
The Marketing Leadership Masterclass is a rigorous, comprehensive course. It holds powerful strategies to help you tackle real life issues. You'll get to discus with peers. You'll work on your personal plan. We'll put on 4 fun challenges. But there are no exams. You don't need people to check on your knowledge. Your real exam is life. That's what we are helping you build.
Upon completion you will receive your Certificate in Marketing Leadership. We'll award pass, merit and distinction, depending on how much you have contributed to the class discussion and how many challenges you have handed in.
What's the real time commitment?
You have a lot of freedom to decide your time commitment.
If you are looking to experience the full Marketing Leadership Masterclass depth, devote 3-4 hours per week. If you are very pressed for time, 30 minutes a week will allow you to attend all lessons and discuss with peers.
Here is a simple 1-2-3 rule. Each week, watch 1 lecture, ask 2 questions, and answer 3 questions from your peers. If you can do that – and that's easy, right? – you'll take your skills to a whole new level.
How does the discussion platform work?
On the Marketing Leadership Masterclass platform, you can collaborate with participants from different companies, across the globe. Form groups – start new topics – join powerful debates. We have mentors to help direct the discussion—as needed. Thomas and Syl will reply to your questions during the Q&A sessions.
How much does the Marketing Leadership Masterclass cost?
The standard tuition fee for the full 12-week course, all material, the live sessions, and 100 days access to the collaboration platform is  1,095 € + VAT for companies, where applicable. That's less than your average couples' weekend trip.
Booking for a team? Contact us and we'll get you a great group rate.
Read the full brochure.
Is the Masterclass good value?
The Marketing Leadership Masterclass differs from almost any other class you can take. At its heart is intense peer discussion. You can interact and learn with others, debate, and form groups. In this Masterclass, you'll work on real-life issues—based on rigerous research and proven leadership strategies. If you fully embrace it, this class will be transformational for your career.
When can I start?
We run open Marketing Leadership Masterclasses about twice a year. Read the full brochure.
If you have a team of 100 or more, we may put on a class specifically for you. Just message us at [email protected]
Why is this risk free?
You'll join a group of very engaged peers from around the globe. The Masterclass get's top student ratings. It's important to us that the class – and the timing – is right for you. That's why we offer you the following:
If your plans change before or early on in the class, we'll happily book you on the next class

If you have attended the full class, and – after you graduate – believe it wasn't worth your while, we'll refund you the full fee
Interested? Read the full brochure.
How does the Marketing Leadership Masterclass differ from other classes?
Leading marketing isn't the same as doing marketing. The Marketing Leadership Masterclass doesn't teach functional marketing. This class equips participants with the core principles of organizational psychology. The Masterclass teaches executives to lead change and growth—inside firms and with clients.
In the world's largest ever study on marketer's impact and career success, Thomas and Prof. Patrick Barwise have proven: marketing leadership skills trump functional marketing skills. Marketing—and perhaps all future-focused work—is uniquely challenging and personally risky. There are three reasons:
First, much of marketing is about an uncertain future—the exact opposite of accounting. That future focus gives marketers an intrinsic trust gap within the top team.
Second, for a firm to deliver a market-leading customer experience, most of its functions—way beyond marketing—will need to get involved, giving marketers an inherent power gap.
Third, almost every day brings a new—tactical—marketing tool, making it hard for marketers to keep up to date. This creates a permanent skills gap.
No other class in the world (to the best of our knowledge) is teaching exdcutives the art of mobilizing bosses, colleagues, clients, teams, and self—to achieve what really matters: making business growth happen.
Read the full brochure.
Where does this class fit in our learning schedule?
In our experience, the Marketing Leadership Masterclass comlements existing firm training.
When speaking to companies, we often find thee types of trainings:
Functional training: in marketing, for example, product management, pricing, marketing communication-incl. digital, distribution, etc.
Company training: where people learn the specific ways of working inside a firm, the culture, the processes.
Leadership training: as soon as people start to manage others, they'll often get to learn the basics of leadership—and later add skills like dealing with conflict, leading with purpose, etc.
The Marketing Leadership Masterclass complements these trainings. Our focus is on the specific leadership challenges of change. Participants learn how to bridge the important trust and power gaps—and how to lead bosses, clients and colleagues to actualize change. 
Participants will benefit most if they work inside an organization and/or lead clients. We welcome all skill levels.
Shall I send a team?
Absolutely: yes. Our participants leave the class equipped with new ideas and powerful strategies for change. Imagine what could happen when an entire team joins. People will start to speak the same language, ask similar questions, draw on joint learnings. We believe in the power of team learning and we highly encourage it.
When your team joins the Marketing Leadership Masterclass, we'll assign a dedicated mentor to your group. The mentor will constantly observe the group dynamics and can work with you to maximize success.
We also have attractive group rates. Just contact us for the details.
Is this only for people from the marketing department?
What's a marketer? In our view, a marketers is everybody in the business of change. The Marketing Leadership Masterclass is for everybody who markets a product, a service, or simply an idea. This class is about mobilizing people for change—a broad skillset that's going to be useful for most leaders.
We have a broad range of participants from B2B firms, consumer goods companies, consultancies, agencies, technology firms.
Check out some of our past participants here.
Without exam, how can we be sure people have learned?
You want to invest in training the delivers results. But how to find out? Many courses end with exams. Instructors check on people's learnings—often via a multiple choice test or one final paper. That can be very useful. We want to go further.
For over a decade, Thomas has lead the highest rated learning programs for McKinsey and other firms. He's also the dean of the Marketing Academy CMO Fellowship. Through many years of piloting different methods, he made a stunning discovery: success in business had little to do with people's exam results. A much better success-predictor were the quality of their contributions in the classroom (1) and their ability to reflect (2).
The Marketing Leadership Masterclass builds exactly on those two pillars. We award pass, merit, destination, based on a participant's contribution to the debate (1) and their handing in of the reflection papers (2). We are confident: if someone leaves the Marketing Leadership Masterclass with a distinction, they truly are distinctive.
Read about some of our top participants here.
Are you offering company programs?
We believe in team learning and we'll happily help you skill up entire teams.
For groups of less than 100 people, the most powerful option is joining one of our open programs. This way, everybody will benefit from the live debate with peers from around the globe. We'll assign a dedicated mentor to your team who can work with you to help steer the group's success.
If you your team is larger, we'll happily put on a dedicated program. It's an easy 3-step process:
Together we'll agree the learning goals and the participant profiles
We'll adjust the learning platform for your team (questions, workbook, schedule, live sessions)
Your team gets one dedicated mentors from our (or your) team, who work with the group throughout the program. (We'll also put on a farewell gig to celebrate together)
Booking for a team? Contact us for details.
Is the Marketing Leadership Masterclass accredited?
Accreditations are useful for certain types of standardized courses. The badge of approval helps the course stand out. It also helps learning professionals avoid errors. It's about norms. This isn't what we are doing. We rather develop each Masterclass to be the best version it can be. We believe our participant success is proving us right.
Based on participant contribution, we will award a Certificate of Professional Growth. Participants can achieve three levels: pass, merit, and distinction. The Certificate also confirms the average total hours of professional learning (currently 27).
Can we pay by invoice?
Joining the class is as easy as buying a conference ticket. Our platform takes all major credit cards and you'll get an invoice momentarily. We are only offering invoice payments for groups of 15 or more participants, as long as payment is received by the start of the class.
The Marketing Leadership Masterclass is more affordable than your average conference ticket. Furthermore, most companies support employees who take the class. Here's some inspiration for a letter to your boss or HR team:
 Dear ____,
I'd like to take the world's leading course on marketing leadership: the Marketing Leadership Masterclass. I'd be thrilled if you sponsor me.
As you know, I'm working on several important projects for our firm. I've developed my functional skills. But you also know, making change happen inside organizations can be tricky. It's about getting support from decision makers, colleagues, clients/customers. That's what I need to learn now.
The course I'd like to join is the Marketing Leadership Masterclass. It's taught by one of the world's foremost marketing leadership experts, Thomas Barta, and world-leading marketer Syl Saller CBE, Executive Coach, NED and Marketing Society President. The course has a rigorous curriculum and teaches the essence of leading change inside organizations.
Previous participants have said the course has "completely transformed my leadership" and has "lasting impact for both professional and personal life." I can apply these change-skills directly to my work. The class is highly flexible—compatble with my demanding role.
The next class starts soon and I'd love to sign up by _______. 
I believe the Marketing Leadership Masterclass is the training I – and perhaps our entire team – need right now.
The class costs less than a conference ticket. Would you support me and reimburse the training fee?
Best regards,